Treffen Sie unsere Gründerin
FACHÄRZTIN FÜR REPRODUKTIONSENDOKRINOLOGIE UND GYNÄKOLOGIE
Frau Dr. Minoos Hosseinzadeh, Gründerin und Leiterin des San Diego Fertility Institute, ist eine landesweit anerkannte Spezialistin für reproduktive Endokrinologie und Unfruchtbarkeit. Sie schloss ihr Medizinstudium an der Universität Laval, Quebec, ab und absolvierte ein Praktikum an der McGill University, Montreal, gefolgt von einer vierjährigen Facharztausbildung in Geburtshilfe und Gynäkologie an der Universität Ottawa. Anschließend nahm sie an einem zweijährigen Fellowship-Programm für reproduktive Endokrinologie und Unfruchtbarkeit an der Universität von Cincinnati teil.

Nach Abschluss des Fellowship-Programms war Frau Dr. Hosseinzadeh als Dozentin und Leiterin der Abteilung für Reproduktionsendokrinologie und Unfruchtbarkeit sowie als Co-Direktorin des Residency-Programms für Geburtshilfe und Gynäkologie am Riverside Regional Medical Center in Newport News, VA, tätig. Sie war auch die Gründerin und Leiterin des Riverside FEMME Institute in Virginia, wo sie die ersten Labors für In-vitro-Fertilisation und Andrologie in der Region einrichtete.
Sie arbeitete als Reproduktionsendokrinologin im New England Fertility Center und bei Abington Reproductive Medicine in Abington, Pennsylvania. Bevor sie nach San Diego zog, praktizierte Frau Dr. Hosseinzadeh in Orange County, wo sie die Erwartungen unzähliger Paare erfüllte. Sie arbeitete am Hoag Hospital und war klinische Assistenzprofessorin in der Abteilung für Reproduktionsmedizin an der University of California, Irvine.
Eine der anerkanntesten Fruchtbarkeitsärzte in San Diego
ÄRTZTIN FÜR UNFRUCHTBARKEIT
Frau Dr. Hosseinzadeh ist sowohl auf Geburtshilfe und Gynäkologie als auch auf Reproduktionsendokrinologie und Unfruchtbarkeit spezialisiert. Sie ist Mitglied der Society for Reproductive Endocrinology and Infertility, der American Society of Reproductive Medicine, des American College of Obstetrics and Gynecology und des Royal College of Physicians and Surgeons. Sie hat an zahlreichen nationalen und internationalen Konferenzen teilgenommen und mehrere Artikel über Hormonersatztherapie und altersbedingte weibliche Unfruchtbarkeit verfasst. Sie spricht fließend Englisch, Französisch und Persisch.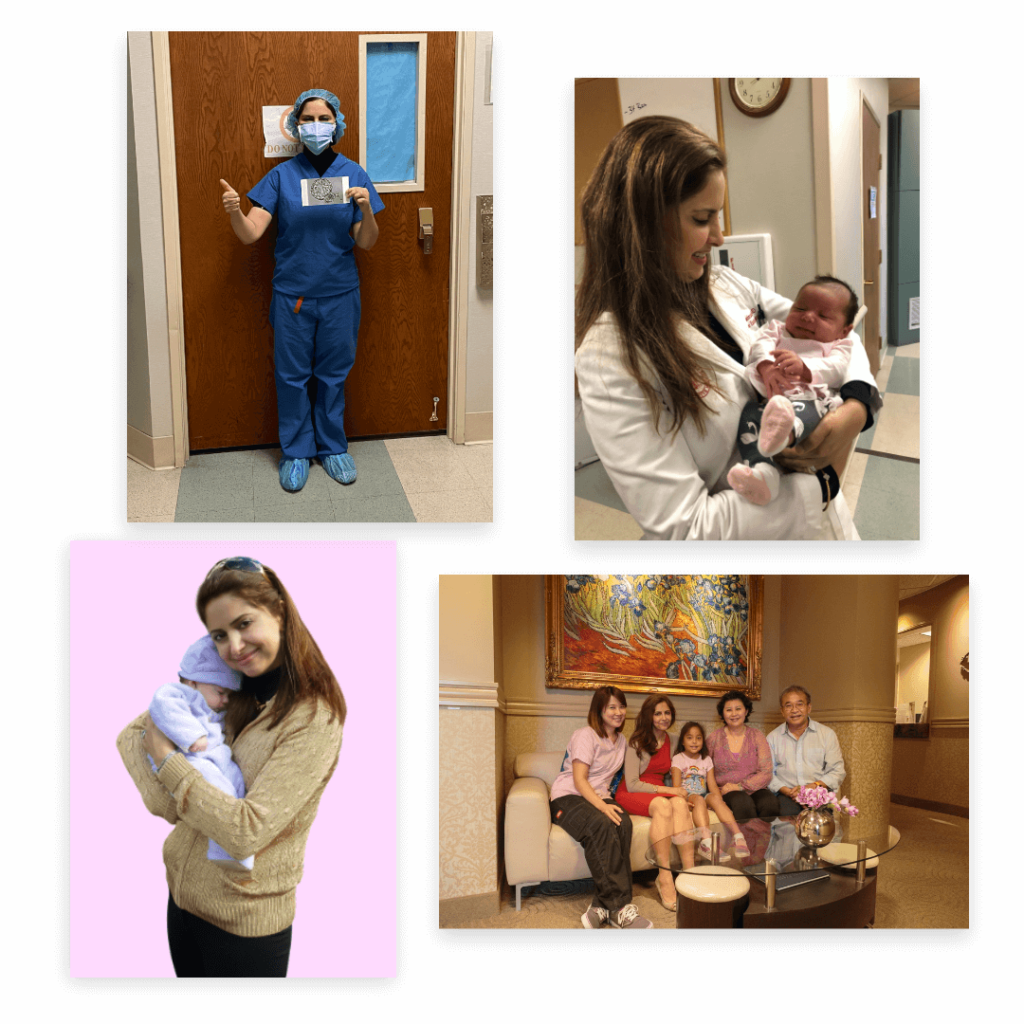 Ihre Reise zur Fruchtbarkeit beginnt hier
5-STERNE-FERTILITÄTSZENTRUM
Wir beantworten gerne alle Ihre Fragen zu Fruchtbarkeitsbehandlungen. Hier im San Diego Fertility Institute werden Sie mit Freundlichkeit und Sorgfalt behandelt.